2021 Nissan Kicks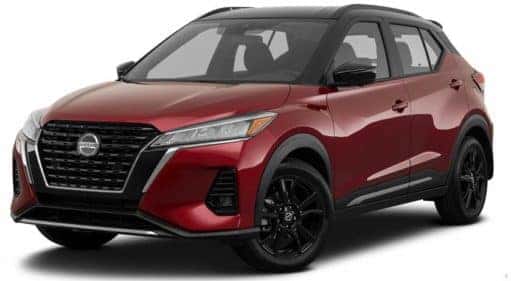 Starting at
$19,500*
2021 Chevy Trax
Starting at
$21,400
| | | |
| --- | --- | --- |
| 8 | Screen Size (in) | 7 |
| 25.3 | Cargo Space (cu.ft.) | 18.7 |
| 33 | Fuel Economy (mpg) | 27 |
Subcompact SUVs are an ideal vehicle for a busy commuter who needs dependable transportation with great gas mileage. They also make perfect cars for new drivers, with sporty styling and ease of parking so that you can fit in any space at the job or near your school. Two of the most popular models are the Nissan Kicks and the Chevy Trax. These two subcompact SUVs offer drivers a surprisingly roomy interior and a solid four-cylinder gas engine at a price that won't bust your budget. But, in comparing the 2021 Nissan Kicks vs 2021 Chevy Trax, you'll see that one model gives you more for your money than the other one. The Nissan Kicks offers better fuel economy than the Chevy Trax and more standard safety features. What's more, if you buy a 2021 Nissan Kicks, you'll find it even more affordable than the 2021 Chevy Trax. This means more money in your pocket to get out and get your kicks. So when you're ready to buy your next vehicle, you should make tracks to Newton Nissan South, and get behind the wheel of a 2021 Nissan Kicks.
Trims and Features

More Affordable, More Options
The 2021 Nissan Kicks and the 2021 Chevy Trax offer a number of different trim levels, with the Trax even offering a pair of special editions. However, if you are looking for the model with the better pricing, then you will have to go with the Kicks. The base model 2021 Nissan Kicks S has an MSRP of $19,500, almost $2,000 less than the 2021 Chevy Trax LS. In addition, Nissan gives you three different trim levels on the Kicks, while Chevy only offers the Trax with two different trims. This will give you more choices when buying your next vehicle.
In addition to the Kicks S, which rides on 16-inch steel wheels, you can also get a Kicks SV. This trim adds such features as a larger 8-inch infotainment touchscreen, 17-inch aluminum wheels, intelligent cruise control, and a center console armrest in the front row of seats. The top trim is the Kicks SR, which adds a leather-wrapped steering wheel, LED headlights, and a sport cloth seat trim that has very attractive orange accent patterns. The Kicks SR is also very affordable for a top-of-the-line model with an MSRP just barely higher than the base model of the 2021 Chevy Trax LS.
Two Trims for the Trax
In contrast, your only choices with the Trax are the base model LS or the top trim LT. LS has the Chevrolet Infotainment 3 system with a 7-inch color touchscreen and rides on 16-inch wheels. These features are both carried over to the LT, although the higher trim adds roof rack side rails, cruise control, LED daytime running lights, and a remote vehicle starter. The two special editions build off of the LT trim and feature mostly the same features. The Trax Sport Edition adds 18-inch aluminum wheels, front and rear skid plates, and a number of exterior cosmetic upgrades, like black Chevy bowtie emblems. The 2021 Trax Midnight Edition offers the same features as the Sport Edition, with a special black exterior paint job.
As you can see, the 2021 Nissan Kicks is significantly less costly than the 2021 Chevy Trax. Moreover, you get more additional equipment on each trim level with the Kicks as compared to the Trax. More options for less money? What's not to like.
Performance

Fuel Economy
The biggest difference between the 2021 Nissan Kicks and the 2021 Chevy Tracks is that you are going to get better gas mileage under all conditions with the Kicks. This is especially important if you plan to use your subcompact SUV for commuting to work or to school. For example, if you are going to use your vehicle for local driving, you will do significantly better in a Kicks than a Tracks. The Kicks averages 31 miles per gallon in city driving, compared to at best 26 miles per gallon in a Trax. The same difference can be seen with highway driving, where the 2021 Kicks will give you about 36 miles per gallon while the Trax tops out at 31 miles per gallon. This means that the Kicks will give you just as good fuel economy in the city as you will get on the highway with the Trax!
Engine and Transmission
Both the 2021 Nissan Kicks and the 2021 Chevy Trax feature a single standard engine on all trims and models. The Kicks has a slightly larger engine, a 1.6-liter I-4 gas engine with direct fuel injection. This will give you 122 horsepower and 114 lb-ft of torque. The 1.4-liter EcoTec Turbo I-4 on the Chevy Trax utilizes port fuel injection to produce 138 horsepower and 148 lb-ft of torque. Both engines use a double overhead cam configuration for 16 valves on four cylinders, making them both very efficient. You get a little more horsepower and torque with the Chevy Trax because of the presence of a turbocharger, although that adds some complexity to the engine and can increase maintenance costs.
Nissan and Chevy went in different directions with the transmissions on their respective vehicles. Chevy has a conventional and somewhat aging six-speed automatic transmission on the 2021 Trax. In contrast, Nissan has equipped the 2021 Kicks with an Xtronic CVT (continuously variable transmission). This piece of technology replaces the fixed gear ratios with a system that constantly adjusts the gear ratio to better suit your current driving conditions and plays a large part in giving the Kicks its superior fuel economy. A CVT can also create a smoother ride since it doesn't have to change gears as your speed changes.
Handling
Both the Nissan Kicks and the Chevy Trax will give you little trouble cornering or parking, even in tight spots. The Kicks has a slightly longer wheelbase, measuring 103.1 inches compared to 100.6 on the Trax. Still, this shouldn't make too much of a difference when it comes to parallel parking. The Trax is offered with an available all-wheel drive that will provide you with more grip and traction than the front-wheel drive only Kicks, but this will also cut into the Trax's fuel economy.
Safety and Driver-Assistance Technology

Standard Safety Shield 360
Driver's who place a premium on safety equipment will want to go with the 2021 Nissan Kicks over the 2021 Chevy Trax. Every model of the 2021 Kicks features a full suite of driver assistance technologies as part of Nissan Safety Shield 360. In contrast, the only standard driver-assistance technology on the 2021 Chevy Trax is a rear vision camera. If you want any of Chevy's Safety Assist features, you will have to pay extra for them.
If Safety Shield 360 on your Nissan Kicks detects a potential collision in front of you, it will alert you with Forward Collision Warning so that you can take evasive action. In addition, the system will engage the Automatic Emergency Braking to bring your Kicks to a stop to either avoid or mitigate the damages from a crash. This system includes Pedestrian Detection, which works in a similar fashion if Safety Shield 360 spots a pedestrian in the path of your vehicle.
One major cause of accidents on highways is when a vehicle drifts out its lane. This could be due to a driver becoming distracted or even dozing off. Lane Departure Warning on the Kicks will alert you so that you can keep your vehicle centered in its lane. On some roads, changing lanes can also be a dangerous hassle. However, the standard Blind Sport Warning on your Kicks will let you know if the lane is clear so you can move over safely.
More Standard Safety Features
While the Kicks has a RearView Monitor like the rear vision camera on the Trax, it also features a standard Rear Sonar System that can detect objects, vehicles, and pedestrians that are hidden while you are backing up. This will work with the Rear Cross Traffic Alert on the Kicks to let you know that you may be backing into an approaching vehicle. This takes safety an extra step, like giving you eyes in the back of your head when you have your Kicks in reverse.
The 2021 Nissan Kicks also comes with standard High Beam Assist. If you are driving at night or enter an area of low light, the system will automatically turn the high beams on until you reach an area of better lighting or if it detects an oncoming vehicle. This will allow you to focus on driving while the system provides you with the proper amount of lighting to proceed safely.