Nissan Recall Information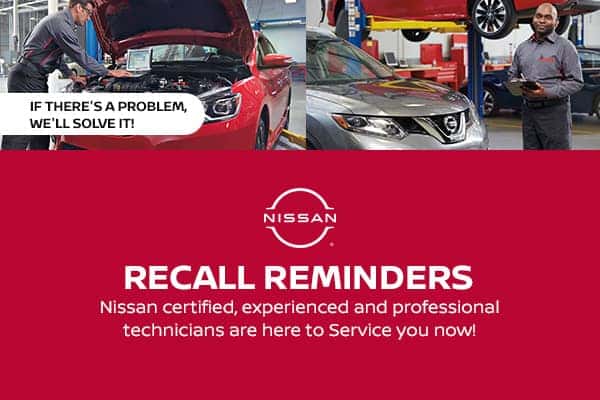 ---
Perhaps you've recently received a notice in your mailbox in Murfreesboro or email indicating that your vehicle has been recalled. Or perhaps you're just curious about what recalls are and how to handle them. Whatever your reasons, Newton Nissan South is here to answer the most fundamental questions about Nissan recalls.
Take a moment to learn about recalls are, how to find out whether your vehicle has been recalled, and what to do in the event that your vehicle has been recalled. Then, if you find that your Nissan is in need of assistance, reach out to our service center in Shelbyville for 100% free recall service—no strings attached!
What is a Nissan Recall?
Before a Nissan ever leaves the factory to be sold at a Columbia dealership, it's rigorously tested for quality. As with any manufacturer, however, sometimes there are issues down the line. Occasional defects are just a fact of production. That's where the National Highway and Traffic Safety Institute (NHTSA) comes in.
This multipurpose government agency continuously monitors the automotive industry and identifies models from certain years that either have emerging design flaws or pose safety risks. Should they determine that your vehicle has an issue, they'll issue a recall for all affected models. But don't worry! Newton Nissan South will fix your car for free, and if necessary, we'll even tow it to our garage.
How Can I Find Out If My Nissan Has Been Recalled?
If a Nissan recall has been issued for your vehicle, the manufacturer and NHTSA will both send you a notification in the mail. If you've never received a recall, but you want to double-check to make sure that none has ever been issued for your vehicle, you can use the recall lookup tool on the NHTSA site. Just remember to have your Vehicle Identification Number (VIN) on hand. This tool can give you an accurate history of every, if any, recall that's ever been issued for your vehicle.
What Should I Do If My Nissan Has Been Recalled?
If your Nissan is recalled, you'll need to service it as an authorized Nissan dealer like Newton Nissan South. Not only are our mechanics Nissan-certified, but our service center can provide you with 100% complimentary Nissan recall service. And if the repair is going to take a few days, we'll even provide you with a loaner car. But don't worry. Many recall services don't take long, and our service lounge features comfy couches, Wi-Fi, and self-serve coffee, so you can even work while get your vehicle up to spec!
Reach Out to Newton Nissan South for Assistance in Shelbyville!
Do you have any questions about Nissan recalls or need to schedule for a Nissan recall appointment near Manchester? Call our experts at (931) 536-3058. We can help you gauge whether your vehicle needs a tow or is safe to drive to our garage, and address any other concerns you may have! And if you're due for a tune-up, be sure to explore our service specials and service financing program!
Mon - Sat

9:00 AM - 7:00 PM




Sun

Closed
Mon - Fri

7:00 AM - 6:00 PM




Sat

8:00 AM - 4:00 PM




Sun

Closed
Mon - Fri

7:30 AM - 6:00 PM




Sat

8:00 AM - 4:00 PM




Sun

Closed