Why The 2021 Nissan Titan Is The Best In Its Class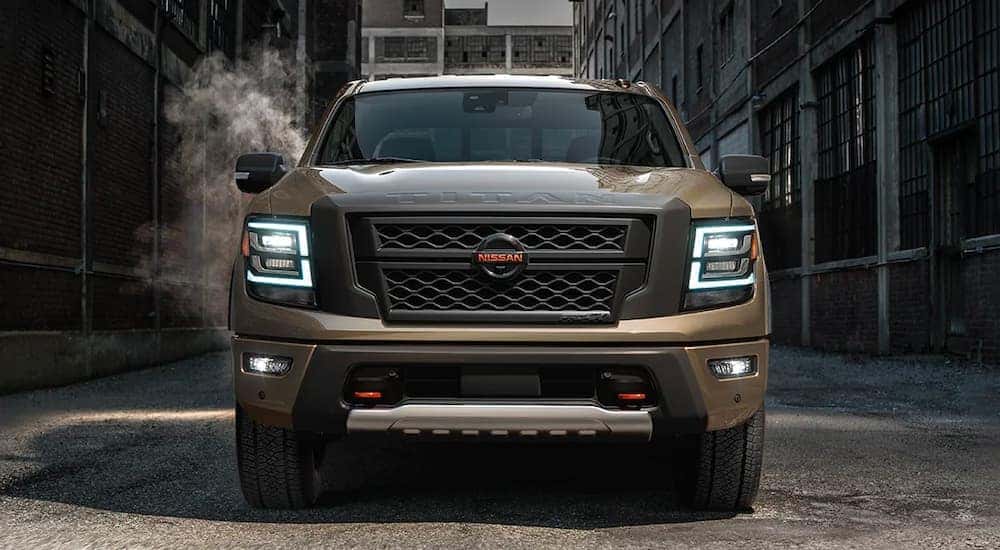 When it comes to power, Nissan may not be the first brand name that comes to mind. We're looking to change that. Here at Newton Nissan South, we are a proud Nissan truck dealer, which is why we're so excited to tell you about the 2021 Titan pickup truck. We can prove that Ford and Ram aren't the only capable powerhouses out there. You'll be surprised at how much this model can tow, how great its tech features are, and how affordable its starting price is. If you're interested in a less-common yet still highly capable truck, the 2021 Nissan Titan might just be for you.
Towing Capacity Is Everything
When it comes to trucks, the main thing you want to know is how much power they're packing. So, that's where we're starting. The 2021 Nissan Titan can tow up to 9,310 lbs, which means that your pontoon boat will feel light as a feather. With this model, you can pretty much tow anything you'll ever need to. Even better, every 2021 Titan comes standard with the same powerful V8 engine, so you don't have to pay extra to enjoy that towing capability. For more towing capacity, check out the larger Titan XD and its 11,040 lbs of max trailering.
Now, the towing capacity alone is just the icing on the cake. The 2021 Titan comes with several features that make towing much safer and easier. These include the Intelligent Around View Monitor, Remote Trailer Light Check, Integrated Trailer Brake Controller, Trailer Sway Control, Tow Mirrors, and Tow-Haul mode. Let's look deeper into what each of these can really do.
The Intelligent Around View Monitor is like a backup camera, but for trailers. It includes a monitor with a top-down view and a rear view. The rearview camera includes guidelines to help indicate distance, which is especially helpful if you're trying to hook a trailer up alone. Next, we've got the Remote Trailer Light Check. This may sound minor, but it's important. If your trailer lights don't work, you could cause an accident and even end up with a pricey ticket. No one wants that, which is why this system allows you to check the lights via your Intelligent Key. Next, an important one for safety is the Integrated Trailer Brake Controller. This handy system is available on your dash, and it allows you to customize your trailer braking power on the fly to whatever works best for your situation.
Trailer Sway Control works to prevent dangerous trailer oscillations in poor weather conditions or when driving at higher speeds. This helps to prevent "fishtailing" and accidental side swiping due to trailer swaying. It does this by preventing the trailer from swaying too far, keeping it from sliding back into the truck. Next, let's look at your tow mirrors. These mirrors telescope out, making it way easier to see all the way to the back of the trailer. Last but not least, we've got Tow-Haul Mode. This feature essentially adjusts the shift points of the automatic transmission to match heavy trailer towing rather than regular driving. Other benefits of using Tow-Haul Mode include potentially better fuel economy and better longevity for your Titan's towing equipment.
Tow-Haul Mode also makes it easier to go down hills when carrying a heavier trailer. The trailer's weight can push on your truck, affecting your speed and safety. However, with Tow-Haul mode, early shifting can provide additional engine braking, making driving down a hill much safer. As if all this isn't enough, the Titan's Hitch Mount Receiver is one of a kind, as it is specific to Titan models. You can also add on a 4-inch drop hitch ball mount as well for objects 5,000 lbs and under. Either way, there's an option for you.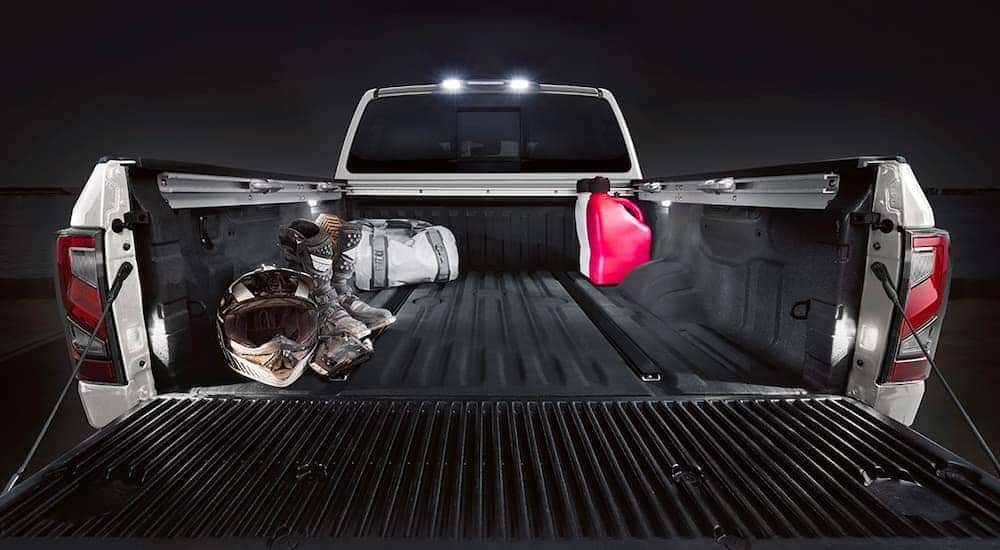 What's The Aesthetic Appeal Like?
On both the inside and the outside, the 2021 Titan is easy on the eyes. Its exterior coat comes in Red Alert, Baja Storm, Deep Blue Pearl Metallic, Super Black, Gun Metallic, or Glacier White. It includes black accents, like its black front and rear bumpers, door handles, side mirrors, grille, and window trim. It has deep tinted rear glass and aluminum-alloy wheels. Additionally, the Titan's running boards add a nice sporty appeal while making it easier for occupants to hop in and out with ease. You can really spice things up by adding on extra accessories, too. The possibilities are endless here, with everything from special fender flares and rear bumper step assist, all the way to a sliding bed extender and Titan mud flaps. There are multiple options to choose from, so it's best to hit up your local Nissan truck dealer if you really want to get fancy with your new Titan.
Now, let's talk interior. The 2021 Titan comes standard with cloth black seat material, but you have a variety of options to switch it up, including rich brown leather on the Platinum Reserve trim. It comes with all the basics, like power locks, power windows with one-touch up and down, remote keyless entry, push-button start, and a tilt and telescoping steering column. There are many add-on items for the interior, too, including the Titan logo approach light, all-season floor mats, and aluminum door sill plates, to name a few. Overall, the Titan is sporty and quite rugged looking.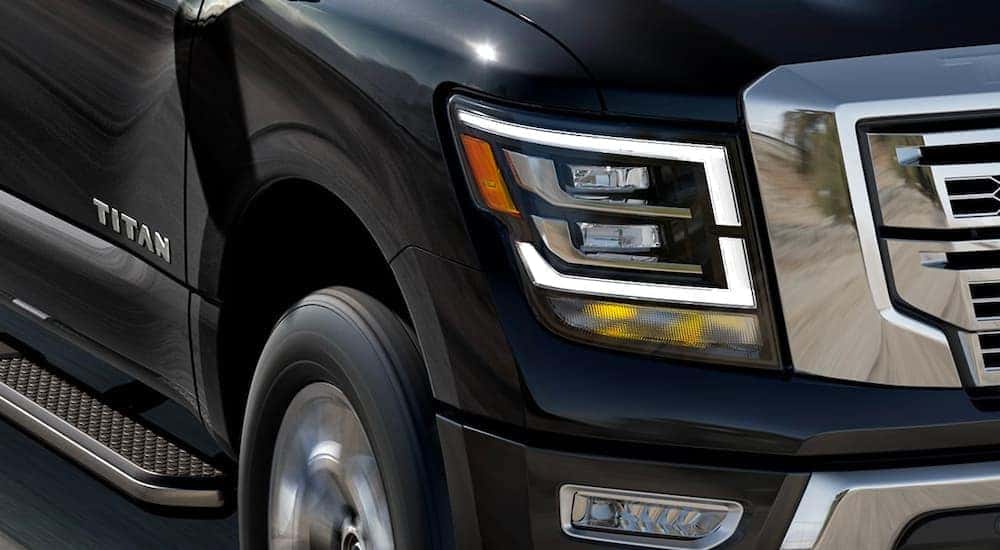 Safety Features, Galore!
We've already seen how high-tech the 2021 Titan's towing safety assist features can be, and its general driver-assist features are no different. This model comes with blind spot warning, automatic emergency braking, lane departure warning, rear parking sensors, and tire pressure monitoring. The blind spot warning feature sends alerts when a vehicle pops up in your blind spot, ensuring that you don't accidentally merge into another vehicle. Lane departure warning works hand in hand with this, keeping you in the correct lane if you start to drift. Lastly, tire pressure monitoring lets you know how your tires are fairing before you'd ever notice it yourself. This helps prevent flats and blowouts, further assisting in accident prevention.
The 2021 Titan also offers several traditional safety features, such as side impact beams to help absorb shock and curtain, side, and knee airbags. There are also built-in safety technologies such as electronic stability control, ABS, and driveline traction control. If you're not sure what those last are, let us explain. The first is a system that uses automatic braking to keep drivers from spinning out. In short, it corrects overcorrections in either the front or the rear end. ABS prevents the brakes from locking up in emergency situations, while traction control prevents slippage by stopping the wheel's spinning. These two safety features have been around for a while now, only improving with age.
Why A Titan?
Between its performance specs and its wide variety of customization options, the 2021 Titan is the obvious pick amongst other trucks in its class. Visit your local Nissan truck dealer today to learn more about this impressive model. At Newton Nissan South, we want our customers to go home with strong, dependable trucks that won't let them down. The 2021 Nissan Titan is one of those trucks.