Why A Nissan Truck Is Your Perfect Work Companion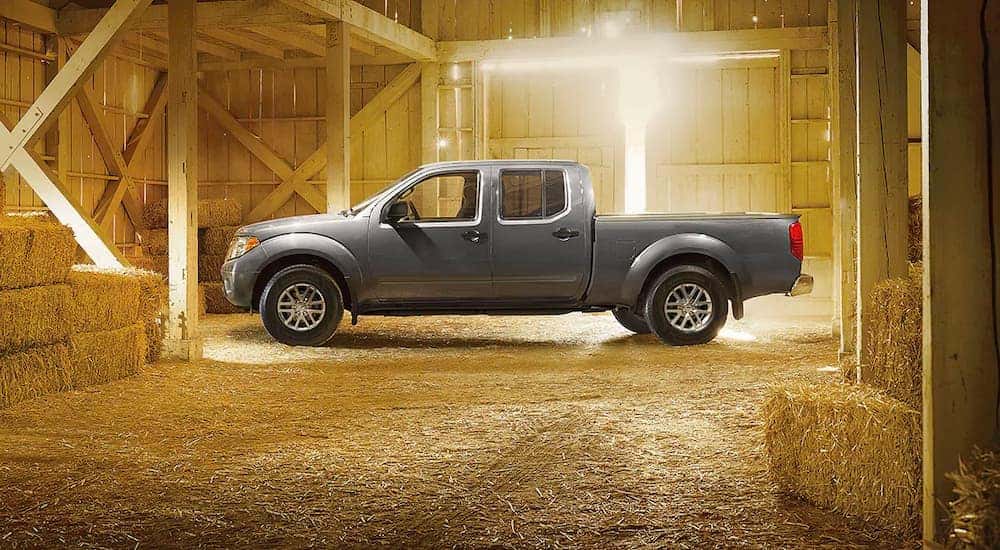 Whether you have an intense job, love a good weekend adventure, or have an endless weekend project list, you need a strong, rugged truck to work alongside you. A truck is supposed to handle any terrain, carry your gear, and have enough power to get it all there. Nissan has a history of producing highly capable and powerful trucks of strength. At Newton Nissan South, your Shelbyville Nissan dealer, your perfect truck awaits. Let's dive into what makes a Nissan truck so special and worthy of any job. Nissan's truck fleet, the Frontier, Titan, and Titan XD, are sure to amaze you.
Nissan Frontier – Dependable & Best-in-Class
The Frontier is the midsize pickup truck of your dreams. So what makes this truck so dependable? First of all, it has a standard V6 engine with best-in-class 310 hp, and the 2020 Frontier features an all-new 9-speed automatic transmission. For those that prefer a small or midsize pickup truck, you can still get the right size for you with all the strength and power you might only expect in a full-size pickup. It gets even better for those who like to tow their extra gear.
With a maximum tow rating of 6,620 lbs and a maximum payload of 1,460 lbs, you can easily pack along the gear and motorized vehicles you want to bring along for your weekend adventure. The Frontier also uses a Utili-Track Channel System that gives you a variety of ways to carry your cargo. That means your cargo gets to the destination secure and safe. All the fun doesn't happen on the outside of the Frontier – the interior of the Nissan Frontier is just as spectacular as the exterior.
Step inside the Frontier, and you will stay connected and comfortable. The Frontier Crew Cab seats five passengers comfortably, and the second row folds in a 60/40 split as a convenience to you. The NissanConnect system keeps you in the know and charged up wherever you are on the road. You can stream music, navigate, and more with the 7″ touchscreen display.
When you're driving the Frontier, you are putting in a lot of miles, work, and fun, so it needs to be the safest truck you have ever driven. Nissan's advanced airbag system and engineering protect your passengers even more. The Frontier's Vehicle Dynamic Control, Traction Control System, Anti-Lock Braking System, and Electronic Brake Force Distribution give you added layers of protection as you take on a variety of roads with many different loads each day. When you visit your Shelbyville Nissan dealer, you'll see why the Nissan Frontier is the best midsize pickup truck out there.
Nissan Titan – Rises Up Above All
Welcome to the Nissan Titan. It's the large pickup truck that consistently beats out competitors in many categories. Where to even begin with this powerful workhorse? The most recent development with the Titan is the 2021 version has some of the best standard safety, tech, and power features in its class. That means when you choose a Nissan Titan, you not only get the top tech and safety features, you are getting value for your hard-earned dollars. This is only the beginning, as the Titan is truly spectacular.
The Nissan Titan features a standard V8 engine with 400 hp and 413 lb-ft torque, which is the best standard engine in its class. Its V8 engine works beautifully with any off-road adventures you will take on. Add on the available 4-wheel drive, and you are set up for ultimate success. All of this power comes in handy when towing your boat for a weekend on the lake. The Titan can tow up to 9,310 lbs. We know that means a lot of fun adventures and work projects in your future! Just like with the Frontier, the Titan offers the Utili-Track Channel System that keeps your gear safe and secure in route.
Back to beating out the competition, the 2021 Titan has a best in class standard 8-inch touchscreen in all 2021 Titan trims. You stay even more connected using NissanConnect with all the necessary apps and navigation features while keeping your iPhone connected with Apple CarPlay. Seating five passengers comfortably, you will feel like royalty inside the Titan, and you may even forget you have a job to do.
The final and most important aspect of the Titan we have to cover is safety features. Once again, the 2021 Titan offers the most standard safety features in its class. Known as the Safety Shield 360, Nissan offers six advanced safety tech features standard in the 2021 Titan. These include Automatic Emergency Braking, Rear Automatic Braking, Rear Cross Traffic Alert, Blind Spot Warning, Lane Departure Warning, and High Beam Assist. The Titan even goes a step further than the competition with even more advanced safety features available that can assist you on your day-to-day driving. There's a lot more to see of the Nissan Titan, so we welcome you to visit our Shelbyville Nissan dealership to get the full experience.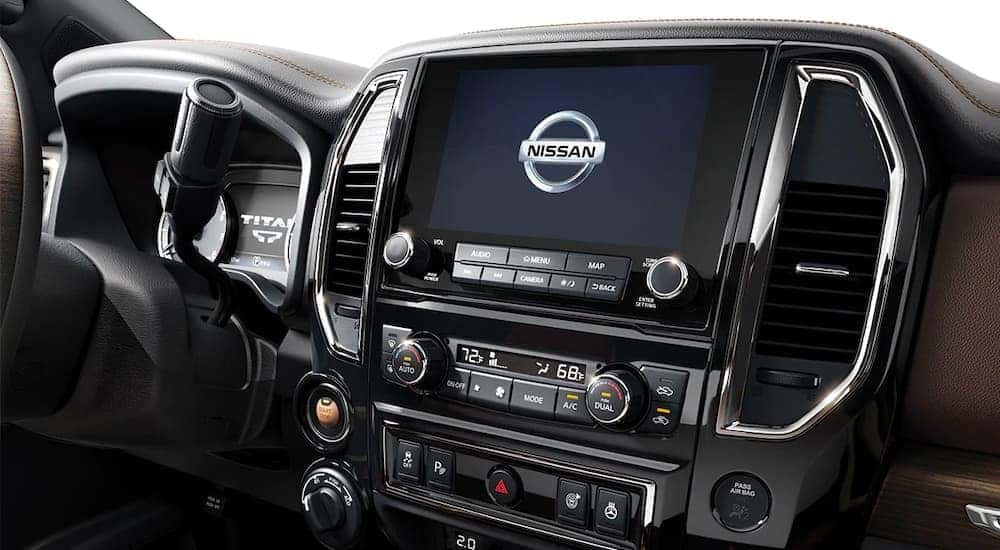 Titan XD – Mighty & Powerful
Rounding out our discussion on tough, rugged Nissan trucks, we've saved the most premium and hardworking truck for last. The Titan XD falls into the Titan lineup of trucks, but there are distinctive features that put it in its own category. All of the features we discussed on the Nissan Titan are also featured on the Titan XD, but let's see what makes it extra special.
To start off, the Titan XD has a towing capacity of up to 11,040 lbs. On some of the Titan XD trims, you have the option to add a gooseneck hitch that gives you such a high tow capacity. If towing is important to you, the Titan XD is probably the right fit for you. In the Titan XD, four-wheel drive is standard, which gives you more flexibility to hit the road or go off-road in any conditions. You even get heavy-duty brakes and commercial components in the Titan XD to handle all of your heavy-duty work.
On the inside of the Titan XD, you can still enjoy all of the standard tech and safety features that set the Titan family of trucks apart from the rest. The Titan XD has exquisite details in the interior like silver metallic and wood-tone trim in the Titan XD Crew Cab SL trim. You can trust that at our Shelbyville Nissan dealership will get you paired with the Titan XD of your dreams.
With so many pickup trucks on the market, it can be overwhelming to decide which one lives up to its name and features. There's no doubt that Nissan's fleet of pickup trucks not only gets the job done but keeps your ride exciting and safe the whole way. We pride ourselves on offering trucks that are consistently best-in-class in many categories and make it a priority to offer as many standard features as possible. The minute you step into a Nissan truck, you won't look back, we promise. Stop by Newton Nissan South, your only Shelbyville Nissan dealer, to discover which of Nissan's powerhouse trucks, the Frontier, Titan, or Titan XD, is the perfect companion for all of your work and play trips.