Used Nissan Vehicles Perfect for Nashville Drivers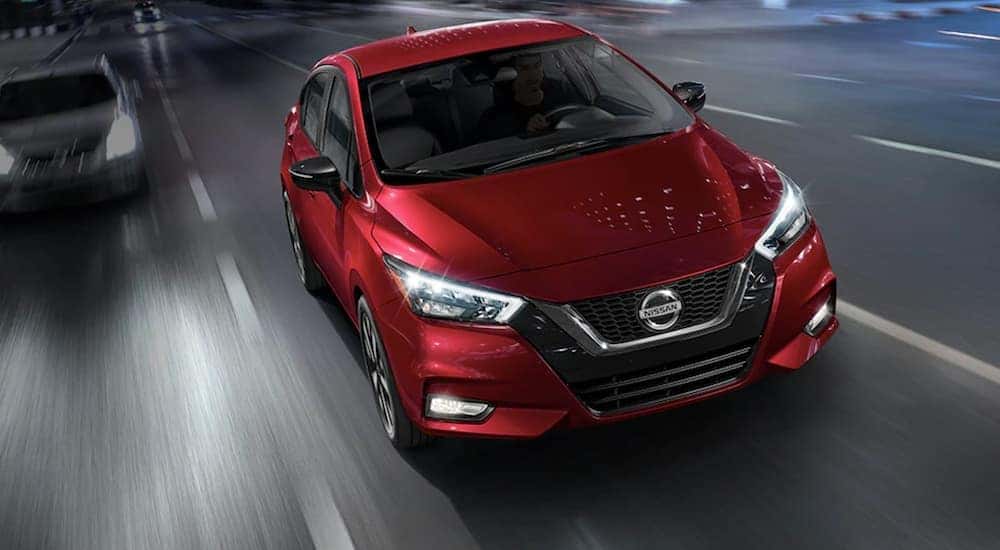 Nashville is one of America's greatest cities, and life here can be a lot of fun. With new breweries, restaurants, and festivals popping up everywhere, there is always something exciting to do, and having a vehicle suited to Central Tennessee makes life in this big city much easier. If you happen to be considering a used car to keep your monthly payments low, we decided to make a list of Nissan models to think about before you head to Newton Nissan South, your Nashville used Nissan dealership, to shop. Which used Nissan is right for Nashville drivers? Seven Nissan models, including a fully electric car, offer good fuel efficiency, a small footprint, family travel, and convenient features for comfort in Southern weather all year long.
#1. Nissan Leaf
Being fully electric is great in Nashville, with the city's "Park It Downtown" website to guide drivers to spaces where you can charge your battery when you go to work or grab a bite to eat downtown. Driving during rush hour stop-and-go traffic will regenerate your battery instead of draining your gas tank, and even early models from ten years ago had over 100 miles of driving range to take you to work and back with plenty of battery life to enjoy the nightlife or head out for a shopping spree. Starting in 2015, Nissan expanded its driving range to about 120 miles, and then in 2019 models, the option to own a Leaf Plus trim meant gaining extended battery life for up to 226 miles of range. A new generation began in 2018 for the Nissan Leaf, which incorporated new tech like Apple CarPlay and Android Auto, plus driver assist features like ProPilot Assist.
#2. Nissan Versa
Drivers who prefer to stick with familiar gas-powered cars can still save money with the subcompact Nissan Versa, which has good fuel efficiency between 30-40 MPG. The Versa is an inexpensive option for city dwellers who want a car that fits into small spaces and has a low cost to purchase. Since 2007, the Versa has gone through three generations, the most recent beginning in 2019, with both hatchback and sedan body styles available in different model years. Despite its compact size, the interior is surprisingly roomy, and even going back to 2013 models includes several tech features like hands-free phone capability and onboard navigation. Newer models can be found with features like a head-up display to keep an eye on traffic and remote start for those cold, rainy winter days. If you purchase an entry-level trim, make sure it has air conditioning to fend off hot, humid weather.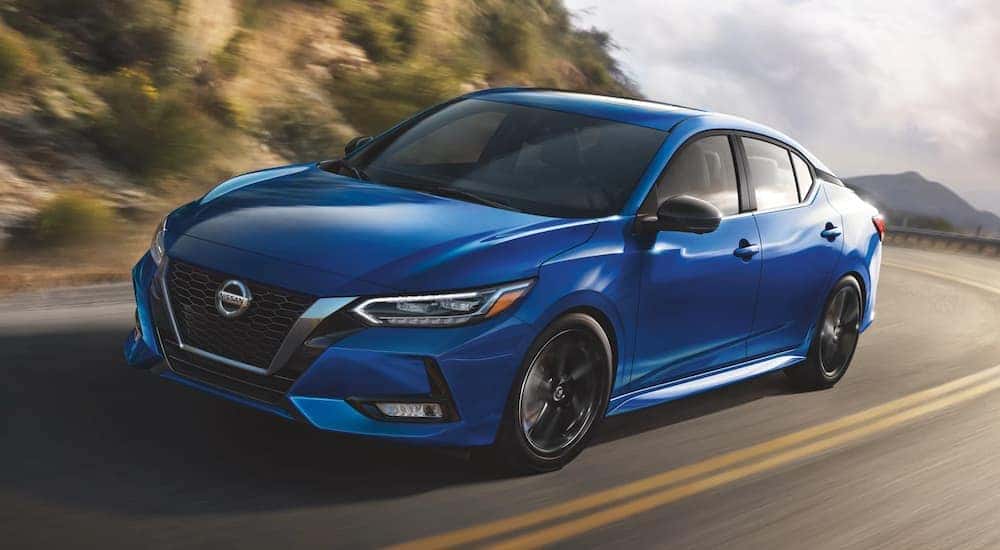 #3. Nissan Sentra
Because city driving so often means contending with city parking, we included another compact car with great fuel efficiency, a small footprint, and a more upscale interior than the Versa with slightly more space. Though the price tag is slightly higher for the Nissan Sentra, the features and comfort are worth the small difference. Now in its eighth generation since 2018, the Sentra is a popular car in the Nissan lineup due to its low price and numerous features. Starting in 2014, the Sentra gained more space to its interior, as well as adding new tech like smartphone connectivity and more comforts like improved seats and a quieter cabin. Buyers may even discover a model with leather upholstery in upper trims. Do make certain you check for air conditioning if you purchase an entry-level trim.
#4. Nissan Kicks
SUV lovers deserve a compact option, so we chose the Nissan Kicks as a great compact SUV for city driving. Produced since 2018, the Kicks is a relatively new member of the Nissan lineup that replaced the former Juke. Loaded with tech and spunky style, the Kicks also gets excellent fuel efficiency at around 33 MPG for class-leading savings in fuel. As is the tendency with Nissan vehicles, the Kicks comes loaded with standard features like smartphone connectivity, driver-assist safety tech, and push-button start. Comfortable "zero gravity" seats in the front make commutes a breeze, and up to 53 cubic feet of cargo space can make longer trips or purchasing large items a simple affair. If you find a range-topping SR model, you can enjoy the premium Bose sound system to listen to new tunes while you drive around Music City.
#5. Nissan Pathfinder
Even when you live in the city, sometimes you need a vehicle that can transport a lot of people. It helps if you can find a vehicle that doesn't take up too much space so you can still find places to park, and the Nissan Pathfinder is a good answer to family-sized travel. Three rows of seats allow for up to seven or eight inside, depending on the model year and seat configuration.
Cargo space is plentiful with the flexibility to fold down second and third-row seats, and fuel efficiency is fair for this full-sized SUV at around 23 MPG for models in the last eight years. If you find a 2013 or 2014 model, you could have a fuel-saving hybrid or even a rear-seat entertainment system. Towing capacity of between 5,000-7,000 pounds makes the Pathfinder great for trips with small trailers, and features like heated seats, tri-zone climate control, and a powered liftgate are available for comfort and convenience.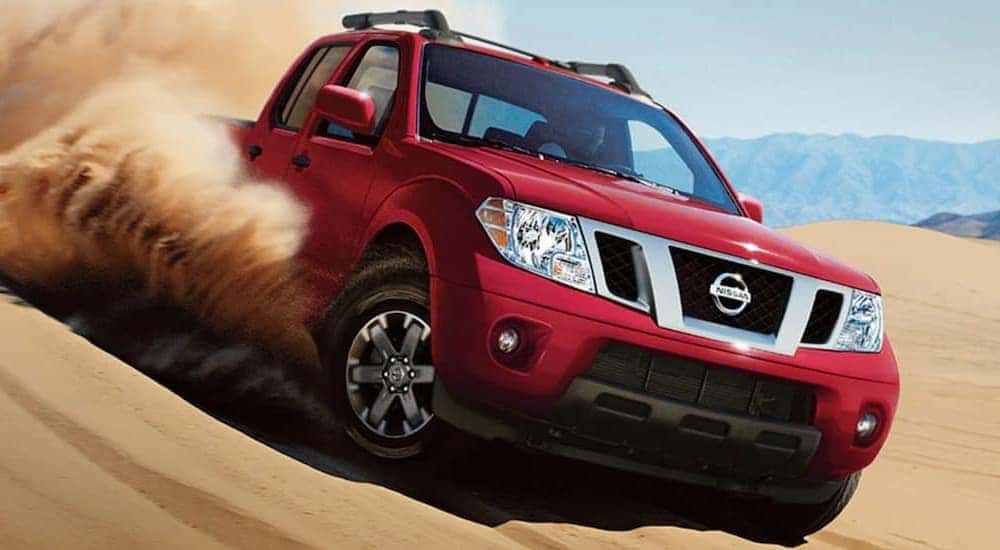 #6. Nissan Frontier
We know Nashville drivers love trucks to accompany their country music style, so we included the midsize Nissan Frontier as an option to a full-sized truck for better city driving. The Frontier has been around for a long time, and its ruggedness is part of its secret to longevity. Starting back in 2013, the Frontier was updated with a new Desert Runner trim built for off-road adventure, and Pro-4X trims continue to provide off-road prowess.
Towing capability for small trailers is available, along with four-wheel drive. Seating for up to five is available in the cab, though the back seat is best for kids if you plan to travel in groups. Having the truck bed for moving large items on clear days can be a great option for bargain hunters and roadies alike. Upper trims of the Frontier could have upgrades like a universal home remote, leather seats, and onboard navigation, but it's wise to check for AC on lesser trims in earlier models.
#7. NV200 Cargo Van
If you happen to own a delivery business in the city, a compact cargo van can make it easier to drive through tight spaces or park near entrances so you can unload. Available since the 2013 model year, the NV200 has just over 122 cubic feet of cargo space inside and features 180-degree rear-opening doors to allow for easy access to the cargo area. The combined fuel efficiency of roughly 24 MPG is likely in models since 2014, and handy tech features like NissanConnect with navigation became available in 2015. This is a vehicle perfect for caterers, musicians, and event organizers who need to transport large items or lots of cargo at one time while still being able to manage city streets and having your cargo space covered keeps everything dry on rainy days.
Nashville Drivers Need Nissan Vehicles
Nashville, we know the weather can be one of the more challenging aspects of living in Music City, but we also know that life here is full of exciting experiences. Whether you need to deal with a daily commute, transport equipment, or need a family car, we hope our choices for used Nissan vehicles will help you make the most of life in one of America's best cities. Nashville is a special place to call home, whether you're part of making the music or enjoying it.