Ultimate Buyers Guide for the 2022 Nissan Frontier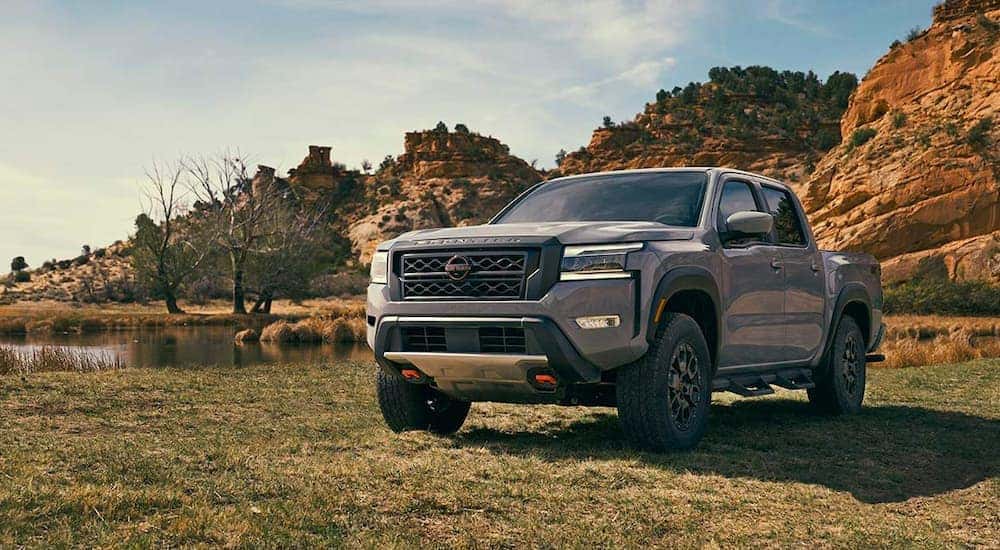 The Nissan Frontier has been coasting down highways, working hard on job sites, and traveling across state lines for decades; however, has anyone noticed anything about this mid-size truck? If you said it looks relatively the same since 2005, you're absolutely correct because it's been 16 years since this crowd favorite has been redesigned. Well, everything is changing for this capable machine, and your top Nashville Nissan Frontier dealer, Newton Nissan South, is about to tell you everything you need to know about this redesigned model in our 2022 Frontier buyers guide.
Get ready to be wowed as you learn all about its new performance features on and off the road, revitalized interior and exterior styling, as well as upgraded tech to finally bring this mid-size marvel in line with the rest of the trucks in its class. We've been waiting a long time to be able to unveil a brand new Frontier, and we believe that it was worth every second of the wait, especially when you find out just how much it has changed.
Fiercely Reimagined
We'll start with the obvious. The 2022 Frontier is a far cry from the Frontiers of the past, especially when you get the chance to look at it closely. The third generation of this popular model is a fresh, new take on a classic with an all-new body style, polished features, and a daring design. The new Frontier is longer than its predecessors and showcases many features, perfect for the avid off-roader, like high ground clearance, off-road step rails, 17-inch alloy wheels, and a strong, durable frame. From the outside, the Frontier radiates confidence, able to propel drivers forward, no matter what terrain lies underneath its tires.
Inside, you'll find that the 2022 Frontier has been designed to impress even the most discerning buyer, with luxury features and high-end appointments accentuating its comfortable cabin. Zero Gravity front seats, a heated steering wheel, and more premium features throughout make the 2022 Frontier the best Frontier yet. A power sliding glass moonroof, plus acoustic glass, allows for the most relaxing ride ever, with sound absorption capabilities, which effortlessly limit the noise surrounding you on the road. Imagine sitting in traffic as you enjoy the skies above in a quiet, peaceful setting. That's exactly what you can expect when you're riding in the all-new Frontier.
Not only is the Frontier more stunning than ever, it's also perfectly functional, with even more storage and cargo options to maximize its potential. Rear under-seat storage and various storage cubbies throughout allow you to maintain a sense of order inside your truck. With a large center console, you're able to store even more items, including valuables, securely and effortlessly. It's no secret that the 2022 Frontier was designed to impress, and with its refreshed style and endless ways to stay comfortable on board, it's only to be expected that drivers are getting a little obsessed with it already.
Unhindered Capabilities
In addition to being redesigned to perfection, you'll also find that the all-new Frontier is armed with superior performance features that make it much better than before. From the streets to the trails, the Frontier can take you there with its 3.8L V6 engine, providing it with best-in-class 310 horsepower, plus 281 lb-ft of torque to be able to handle more challenging tasks. Able to tow up to 6,720 lbs and equipped with enhanced trailering tech, like Trailer Sway Control to provide increased security of your haul and Tow-Haul mode available for maximum control while towing, the 2022 Frontier makes even the toughest tasks seem easy. Plus, with a 1,610 lbs payload rating, you're able to load up the Frontier without having to worry that it can handle it because, trust us…it can.
When it's time for some fun on the trails, the 2022 Frontier really brings the excitement, with driver-selectable four-wheel drive, a fine-tuned suspension system, and more off-road elements designed for maximum thrill. Hill start assist provides you with the additional help you need to power up a steep incline, while hill descent control allows for smoother descents down even the most treacherous hills. For those who are serious about off-road adventure, the 2022 Frontier PRO-4X is designed to heighten the experience, with Bilstein off-road shocks, durable skid plates, and an electronic locking rear differential for increased traction when the terrain becomes tough to navigate.
It may not always be time for adventure, but when you want an everyday drive that's not only exciting but efficient, the 2022 Frontier won't disappoint. Getting a combined 20 MPG on the open road, the Frontier not only proves that it's a ready-for-anything kind of truck, but it's also fiercely efficient, making it a practical addition to your family of vehicles. If you're looking to have it all, the Frontier will deliver this in the form of off-road prowess, undeniable power, and a versatility that can't be rivaled, making this Nissan model one of the most highly anticipated of its time.
Groundbreaking Tech
If there's one thing drivers can't live without, it's technology, especially when they're spending more and more time in their vehicles. For years, Nissan has made subtle changes to the Frontier, including the sprinkling of tech features here and there, but the 2022 model is packed with a whole new arsenal of innovative technology. With the largest available touchscreen in its class, the Frontier's 9-inch display offers state-of-the-art options, like connectivity features, navigation, and more. Smartphone integration in the form of Apple CarPlay and Android Auto can also be found, in addition to wireless charging options, a WiFi Hotspot, and the largest driver gauge display in its class. From traffic sign recognition to turn-by-turn directions, have everything you need right in front of you when you're traveling in the all-new Frontier.
If you thought that all of its connectivity features were impressive, it's not finished wowing you just yet. With the ability to make any journey safer and more focused, the 2022 Frontier features a class-exclusive Intelligent Around View Monitor with Off-Road Mode to display a variety of angles surrounding your vehicle for enhanced safety. Being able to avoid obstacles, especially while navigating treacherous terrain, is made easier when you have an extra set of eyes and your vehicle watching out for you. This feature even comes in handy while towing to ensure that you and those around you remain safe, even if you're hauling a cumbersome load.
It's obvious that Nissan took some time in designing its all-new Frontier, and by equipping it with some of the most desirable tech features just makes it even more appealing, no matter what task you're tackling next. From off-roading to towing, everyday driving, and more, the tech inside the 2022 Frontier is everything we could have ever hoped for and then some.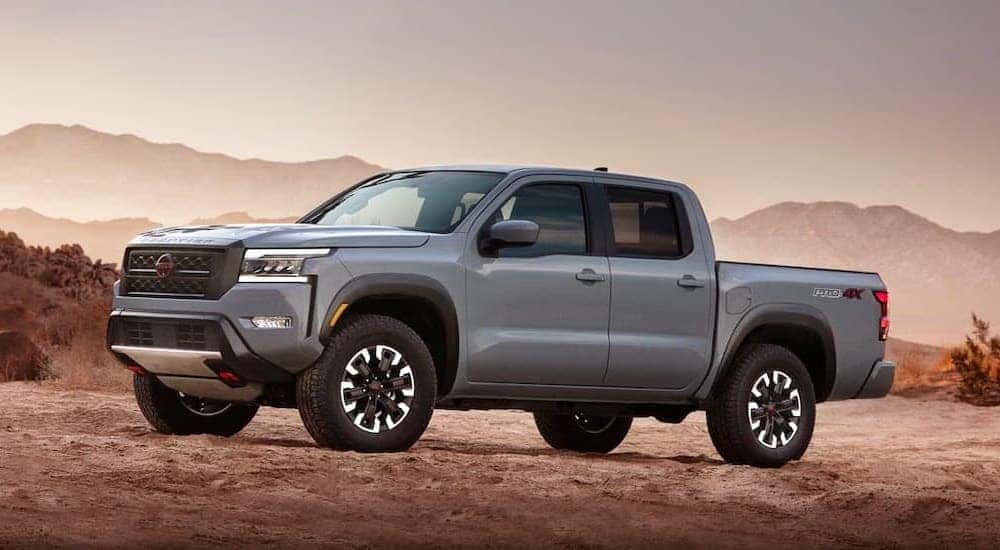 A New Frontier
There's just something about a redesign that gets drivers excited, but this redesign is different, and to say drivers are intrigued is an understatement. The 2022 Nissan Frontier is what dreams are made of, with intense capabilities, heightened style, and more features than ever before, making this mid-size truck worth the wait. At Newton Nissan South, we're ready to help you find the perfect vehicle to suit your needs, and if you can't stop thinking about the all-new Frontier, you're certainly not alone. Schedule a test drive of this fantastic truck today to get a first-hand glimpse of true perfection. We can guarantee you'll be fascinated by its impressive driving dynamics and legendary performance and taken aback by its alluring style and modern tech features, designed to not only impress but inspire.