Newton Nissan South Wins The 2019 Nissan Award Of Excellence
Newton Nissan South is proud to announce that they are a recipient of the 2019 Nissan Award of Excellence. We credit this incredible achievement to both our team of committed Nissan specialists and managers and our customers. Without you, we wouldn't be growing and improving year after year.
About the Nissan Award of Excellence
The Nissan Award of Excellence program recognizes and rewards employees and dealers that deliver outstanding results in sales performance and growth, customer satisfaction, and owner loyalty. Newton Nissan South delivered in those areas to earn this prestigious annual award for 2019. Our commitment to providing the best car-buying and ownership experience is what sets us apart, and our customer satisfaction scores reflect that commitment. Come see for yourself what we mean!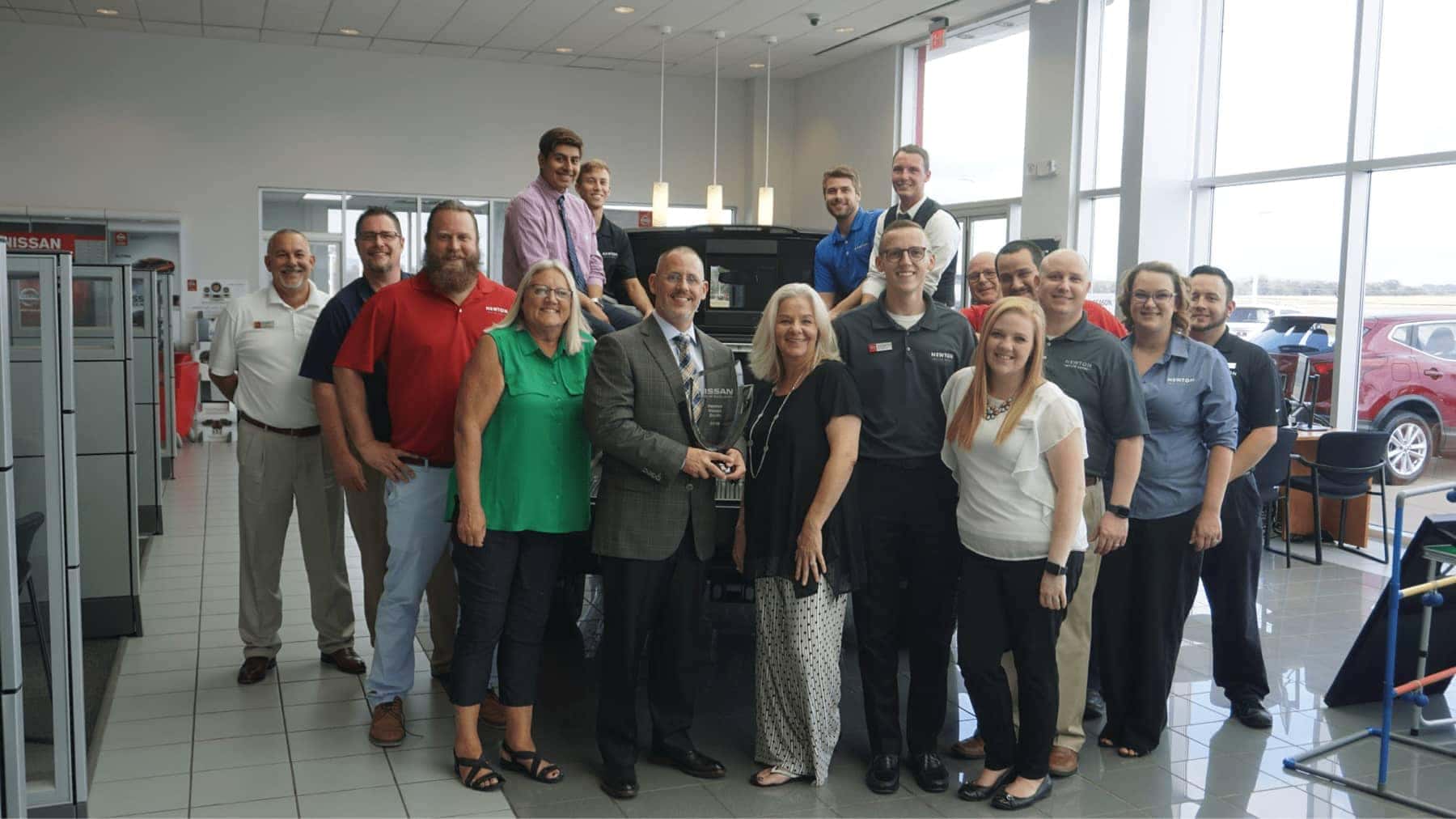 What Makes Newton Nissan South Excellent?
A faster, easier experience buying a car.
Newton Nissan South has always been committed to better car-buying experience for everyone,no matter their family size, needs, or credit situation. To take this commitment to the next level, we are now offering Newton Fastpass — a faster, easier way to buy a car. With this new tool, you can begin your car-buying process online. Find your perfect vehicle, then click on "Newton Fastpass," to see payment and down payment options. You can also value your trade, check your credit, and upload your Driver's License and Insurance, if you so desire. All of these steps, or even just a few, can help decrease the amount of time you spend in the dealership.
Making things right, every time.
We are not perfect, but we will strive to find the perfect solution to any problems that our customers or staff may face during the process. Mistakes are inevitable, but everyone, from our salespeople to our managers, all the way up to our owner and operator, Mike Castro, are determined to find the best solutions for our customers.
But don't just take our word for it, check out our reviews here!
A word from our owner, Mike Castro:
"Congratulations to our team at Newton Nissan South for achieving Nissan's 2019 Award of Excellence. Only the top 15% percent of Dealerships received this award nationwide as recognition for outstanding performance in Customer Satisfaction and Owner Loyalty.Biggest thank you to our customers! Thank you for choosing to do business with Newton Nissan South."