All Eyes Will Be on the Nissan Ariya
When gas prices surge, as they tend to do in the summer months, owners of gas-powered SUVs cringe at the pump, weep a little as they pull out their gas card, and suck it up because there isn't really anything else they can do but suffer. This is an unfortunate vicious cycle that we see play out year after year. There are options, of course. You can always sell off your SUV and utilize public transportation or get the Lyft app. You could also buy a bike and not only save money on gas but wind up with some pretty sweet-looking toned legs. But there is a better solution; you could visit a Nissan car dealership in Tullahoma and invest in the upcoming Nissan Ariya.
This electric crossover is poised to change the way people think about electric vehicles. Of course, you will have to get over this unfounded notion that modern electric vehicles are the same as ones produced several years ago. The truth of the matter is that these new electric models are in a class all on their own. Once you have a better understanding of the benefits of an electric SUV, you will no doubt rush out to your nearest Nissan dealership to try out the all-new Ariya.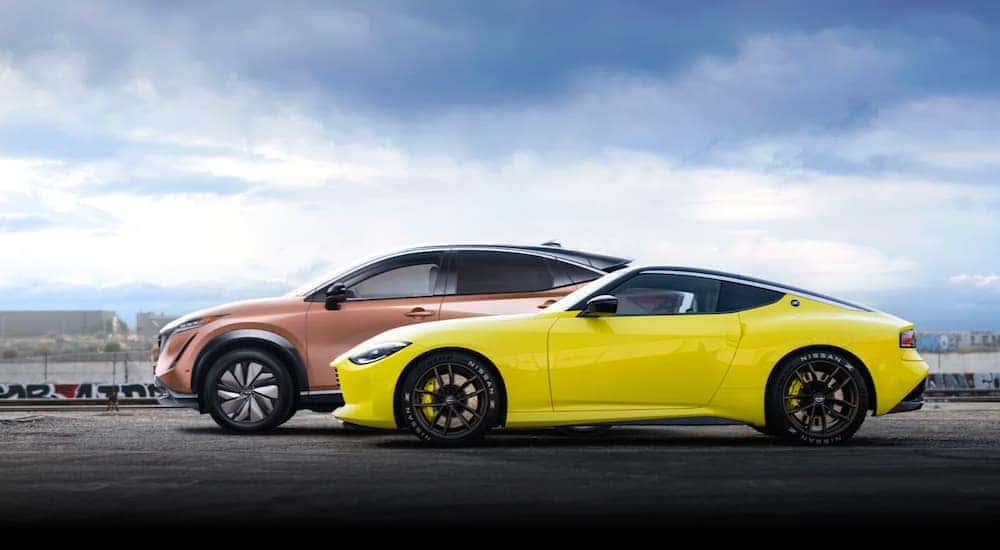 Don't Believe the Myths
Many of you probably believe that the electric vehicle is the way of the future. And at the rate manufacturers are cranking them out, that future is a lot closer than you might think. Yet, there are far too many drivers who still believe that electric cars are slow and sluggish and have very short range. Well, both of those thoughts are entirely untrue, and you might be surprised to learn just how capable the latest electric cars are.
If you are an average American, you can expect to drive about 40 miles per day. Even the electric vehicles with the worst range can go twice as far on a single charge. Better still, the Nissan Ariya is expected to get around 300 miles before it needs to be recharged. So we can clearly see that range is not a problem with electric cars.
Some people make the comparison that electric cars are as slow and sluggish as your typical golf cart. This is almost laughable because just the opposite is true; electric cars are actually quicker than gas-powered cars. An electric motor gives you instant torque, which means these cars fly off of the line. Some popular electric models boast 0 to 60 miles per hour speeds of as little as two seconds! Let's see how well your gas-powered SUV fares. Nissan has made a statement that the Ariya is quicker than most Ford Mustang models.
Another misconception about electric vehicles is that some people think they are too expensive. Well, we have news for you; electric vehicles can be quite affordable. The fact is that just like gas-powered vehicles, there is a range of prices for electric vehicles. There are electric models right now on the market that sell for well under $30,000. Of course, you can always spend more on an electric car depending on the features you want. And don't forget about the Federal Tax Credit program that can put up to $7,500 back in your pocket after purchasing an electric vehicle. The bottom line is that electric cars are not more expensive than comparable gas-powered models.
There is a rumor floating around that electric cars are unsafe, or at least not as safe as gas-powered vehicles. We would like to point out that electric vehicles are tested by the National Highway Traffic Safety Administration (NHTSA) just like gas-powered cars, and they get outstanding ratings. In fact, some electric models score perfectly for many of the tests. And if you think that the battery in an electric car will catch fire in a collision, just know that the odds of a gas-powered car catching fire are actually higher.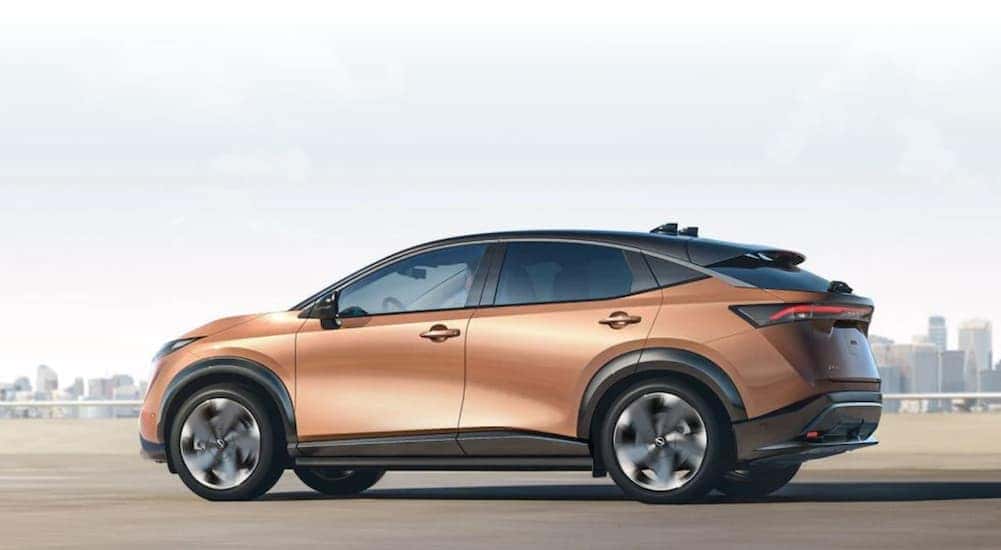 What the Nissan Ariya Brings to the Table
With the release date fast approaching, it is time to check out the features of the all-new Nissan Ariya. Where to begin? Let's start off with the fact that the Ariya offers a smooth and quiet ride, and let's not forget the powerful acceleration. We aren't kidding around when we say that the Ariya is a powerful beast, the standard powertrain boasts a hearty 215 horsepower, and the long-range model tops out at just under 390 horsepower. You read that right, an electric compact SUV with nearly 400 horsepower.
You can get the Ariya with front-wheel drive or all-wheel drive. This is good news for those who still enjoy weekend adventures on uncharted roads. The Ariya isn't going to give you the off-road chops of some of its bigger SUV counterparts, but it will get you where you need to go. After all, the dual-motor version packs an impressive 443 lb-ft of torque.
The Ariya is billed as a compact SUV, but this does not mean cramped quarters for the driver and passengers. The Ariya seats five comfortably, and every passenger will enjoy plenty of headroom and legroom. Even passengers in the back seat will have enough room to stay comfortable on long drives. One of the reasons there is so much interior space for passengers is the slim Zero Gravity seats. The seats save a lot of space which passengers can enjoy. In addition, anyone who has ever experienced the Zero Gravity seats in other Nissan models knows just how comfortable they are.
There is more to love about the Ariya, including the standard 12.3-inch touchscreen infotainment system. Even at a high trim level, this is rather impressive, but it is nothing short of extraordinary for a base model. Now, let's follow that up with the 12.3-inch digital instrument cluster, which is again quite exceptional, and the sliding center console designed to balance your laptop while reading that urgent email on the go. The ambient lighting adds another touch of class to an already exhilarating interior.
The Ariya is offered with your choice of two-tone paint combinations that include a black roof. There are also three body colors from which to choose. You can opt for 19-inch or 20-inch wheels, giving you sharp looks and sharper handling to complement the vehicle's generous power. The design is sleek, and there is no denying this little SUV has style.
Where to Find the Ariya
At Newton Nissan South, we understand that you have unique automotive needs and that the dealership you choose will be based on mutual trust. We work diligently to earn your trust, and it all starts with an amazing car-buying process with personalized service. Our sales staff is just as excited by the lineup of Nissan models as you are, and they are eager to show you what we have available while making your visit enjoyable. Right away, you will notice our impressive selection of new and used models.
Our selection of vehicles is as diverse as our customers. We frequently refresh our inventory to ensure we have just what fits your needs. There are exciting possibilities out there, and we are more than happy to guide you and answer any questions you might have about a particular model. We are super excited to show off the new Ariya upon its release and hope you are eager to check it out as well. Stop by Newton Nissan South at your convenience and let us help you get behind the wheel of your dream Nissan.