10 Things We Love About the 2021 Nissan Rogue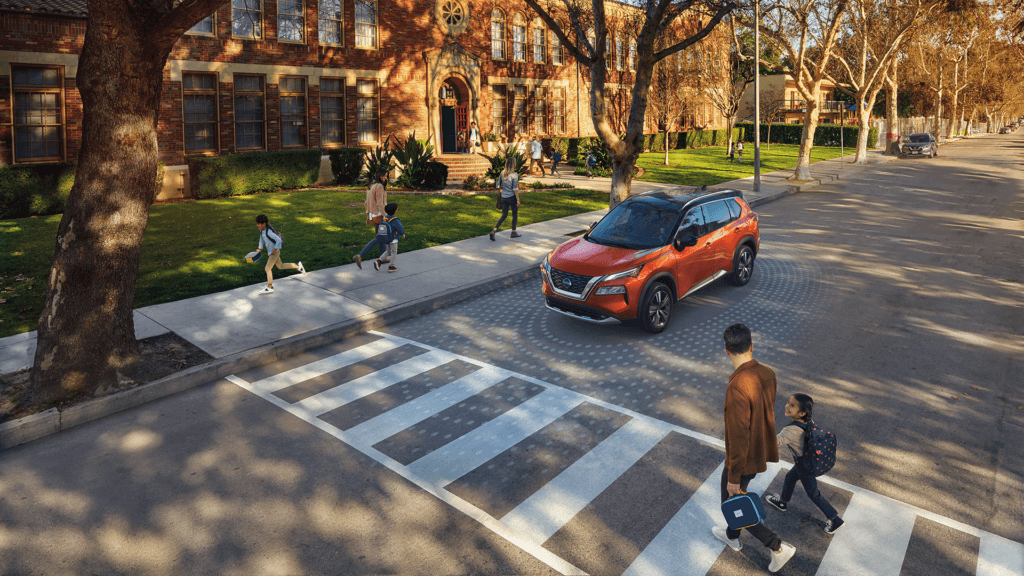 The all-new 2021 Nissan Rogue has been completely redesigned for this year, and we are excited about it! We received our first few models this past week, and think it is an amazing vehicle with all its new bells and whistles. This isn't the first (or the last) Nissan redesigns, as we've seen with the economical Versa and Sentra, but it is one of the biggest overhauls for this particularly well-loved model. We've been looking through the specs and we want to share with you a few of our favorite features of the all-new Nissan Rogue.
1. Bold Exterior Changes
The biggest change for the all-new Rogue is, of course, the exterior design. Changing from the classic, well-known sloping shape, to the more modern, square and crisp lines similar to Honda's newer models as well. Additionally, the exterior comes in a new variety of color options, including two-tone looks like the Nissan Kicks introduced a few years ago. Finally, take a look at the model name on the rear door: "Rogue" is enblazened with roomy letter spacing that is sure to stand out.
2. Interior Comfort & Space
Inside, the space hasn't changed dramatically, as there is still no 3rd row. However, Nissan's approach is to bring more connectivity and space for moments, like that spontaneous bike purchase. With the flat-folding rear bench and Divide-N-Hide storage system, you'll have room for whatever you need in the back. In addition to space, let the Rogue elevate the style for your passengers with available premium leather seating and tri-zone climate control to keep everyone comfortable for the drive ahead.
3. Safety Features Made Standard
Like several other Nissan models, the new Rogue features Nissan's suite of safety technology known as Safety Shield 360. This includes features like Automatic Braking (rear and front, with pedestrian detection), Blind Spot Warning, High Beam Assist, and more. In addition, keep your loved ones in the back seat safer with the Rear Door Alert, which will remind you as you exit the vehicle to check for items in the back seat. There are more features that are available, such as Blind Spot Intervention and Traffic Sign Recognition.
4. Driver Assistance Tech
Staying safe is one of Nissan's top goals, and that includes specific driver assist technologies that greatly reduce stress and fatigue on drivers, so that they can stay as safe as possible. The Rogue was one of the first to feature this technology, and it continues to develop it with new features like NaviLink (see below). ProPilot Assist combines steering assist and Intelligent Cruise Control to help maintain speed, distance, and steering in both heavy & light traffic.
5. Wireless Apple CarPlay?!
Move over, bluetooth! The all-new Rogue is introducing a new way to Apple CarPlay–wireless. Forgetting to plug your phone as you get on the road is common, but let the bluetooth take over and automatically connect your phone, its features, and its screen to help you stay connected, listen to your favorite tracks on Spotify, and send texts as you drive.
6. Wireless Charging
Speaking of wireless, there is now a space for wireless charging at the front of the center console, in front of the all-new electronic gear shift (and also-electronic parking brake). Slide your phone into the floating space to keep it juiced up while you're on the go!
7. Ease of Entry
We all love the little buttons on the front two doors that help us enter our vehicle without having to dig into our purses or pockets for our keys. Nissan has upped that game, by adding that clever button to all 4 doors, so that everyone can get in quickly and easily. The rear doors also open to a full 90-degrees so that it is easier to put car seats or cargo into the rear space.
8. ProPilot Assist Upgrades
The 2021 Rogue contains the latest upgrade to ProPilot Assist: using more cameras and radars than ever to provide smooth braking and better steering feel when operating with Intelligent Cruise Control and steering assist. For the Rogue Platinum and Rogue SL trims, ProPilot Assist includes NaviLink, which keeps the system updated with speeds and conditions so that the transitions between speed limit zones and heavier or lighter traffic is seamless.
9. 3 Driver Displays
You want your vehicle information to always be at your fingertips, and Nissan makes that easy with 3 available displays. First is the digital dashboard gauge cluster behind the steering wheel, which is easily customizable. Second, the 9-inch full color touch screen keeps navigation, radio, and more within easy reach. And finally, the 10.8-inch full color head-up display, which keeps specific driving information available while ensuring your main focus is the road and traffic ahead.
10. Multiple Backup Camera Views
Our final favorite Rogue feature for 2021 is the backup camera, which is available on all Nissan models and standard on most of them. The new Rogue features both the backup camera, with it's color-coded lines for judging distances, and additionally the Around-View monitor composites 4 images together to give you a birds-eye view of your vehicle and the immediate space around it, so that you can keep track of everything around you and parallel park like a pro!
What's your favorite feature on the 2021 Nissan Rogue?
Really, we want to know. If you are left wanting even more information on the Nissan Rogue, read this article or check out this virtual test drive for more info:
The all-new 2021 Nissan Rogue is available in Shelbyville, TN, just a short drive from Murfreesboro!
We are committed to helping you find your perfect all-new Rogue with the features you love at the price and budget you can afford. View our inventory of all-new Rogues here, and click the green button to check out financing options, value your trade, and save time at the dealership by using Newton Fastpass!